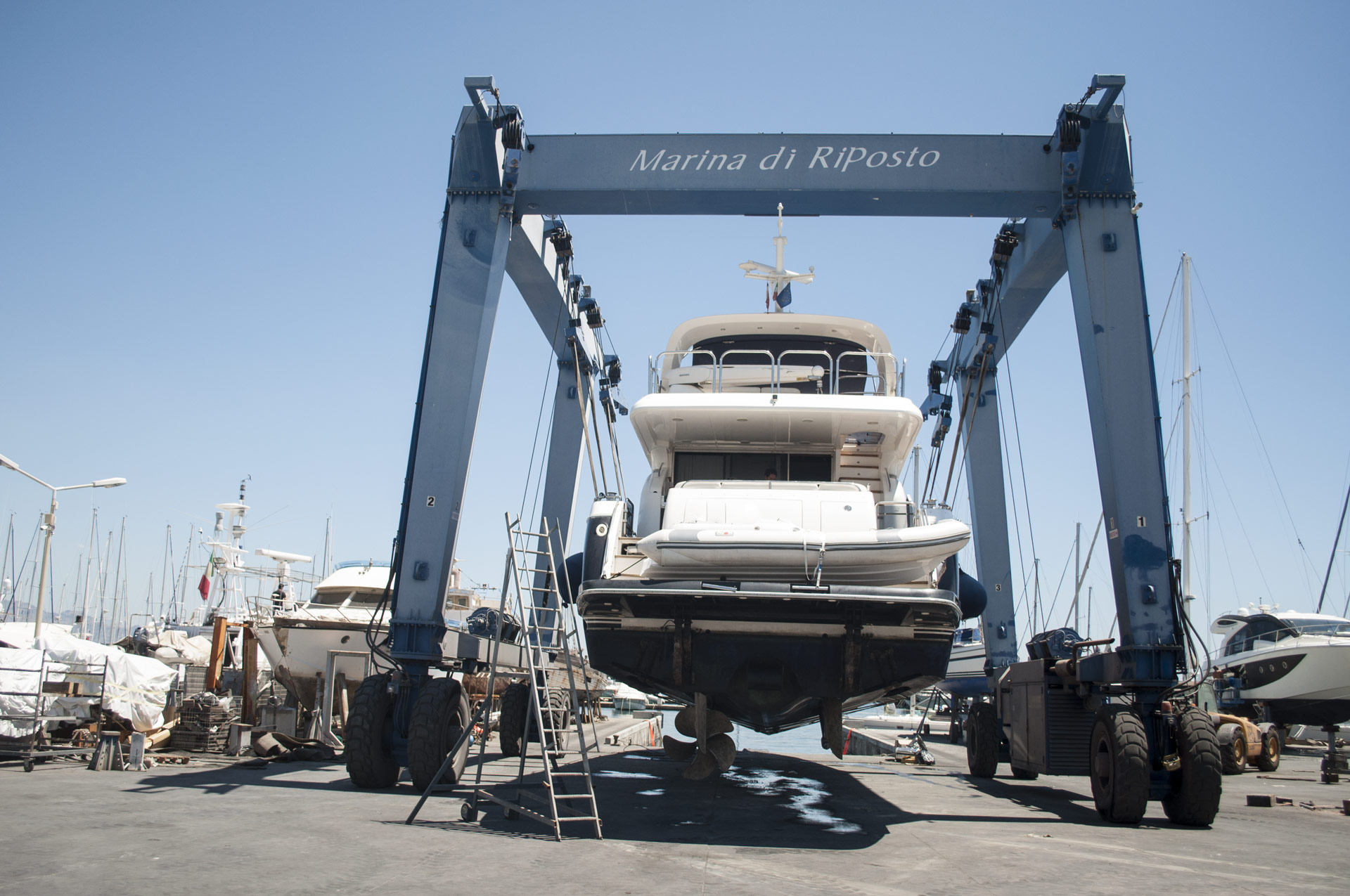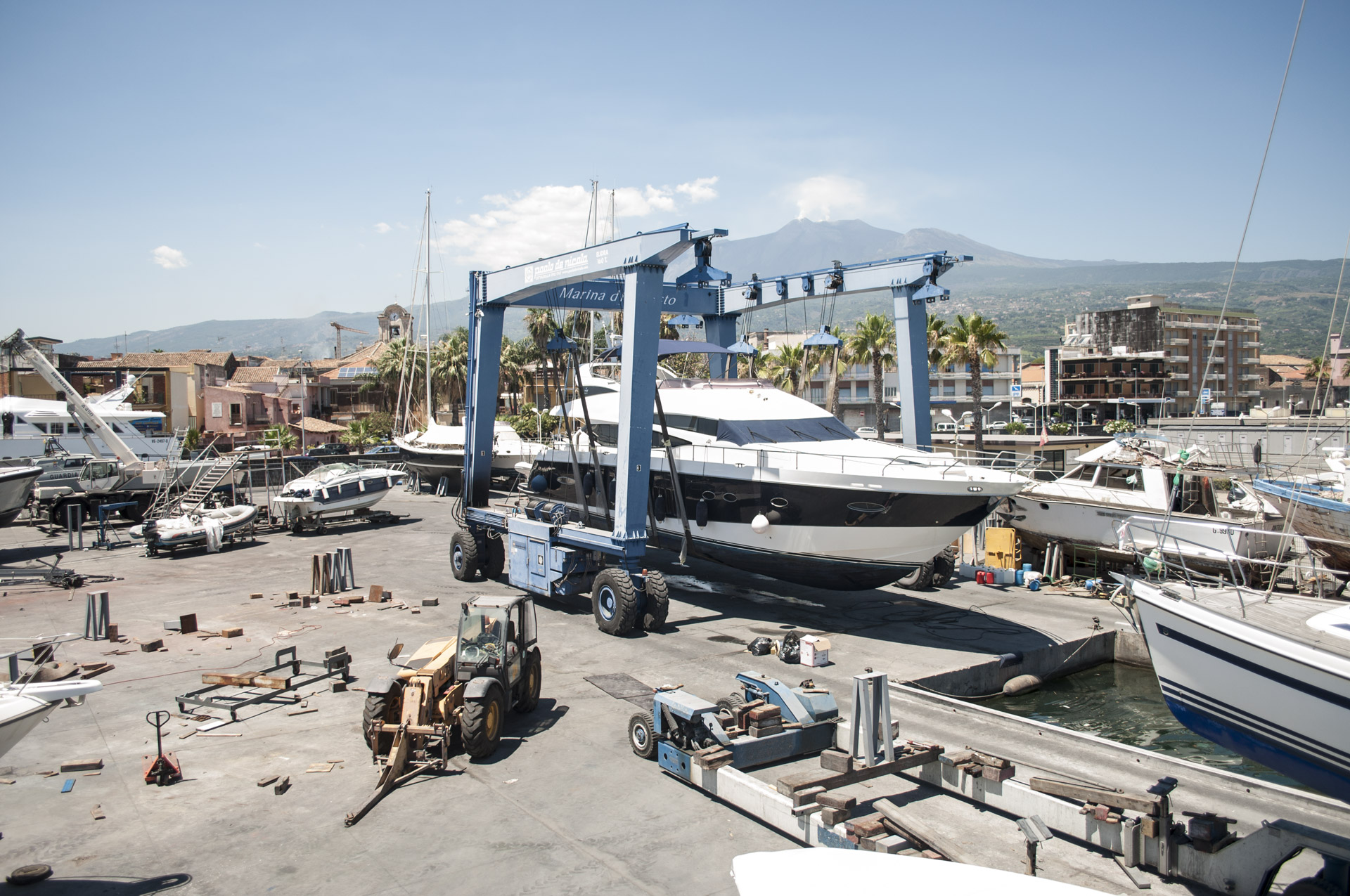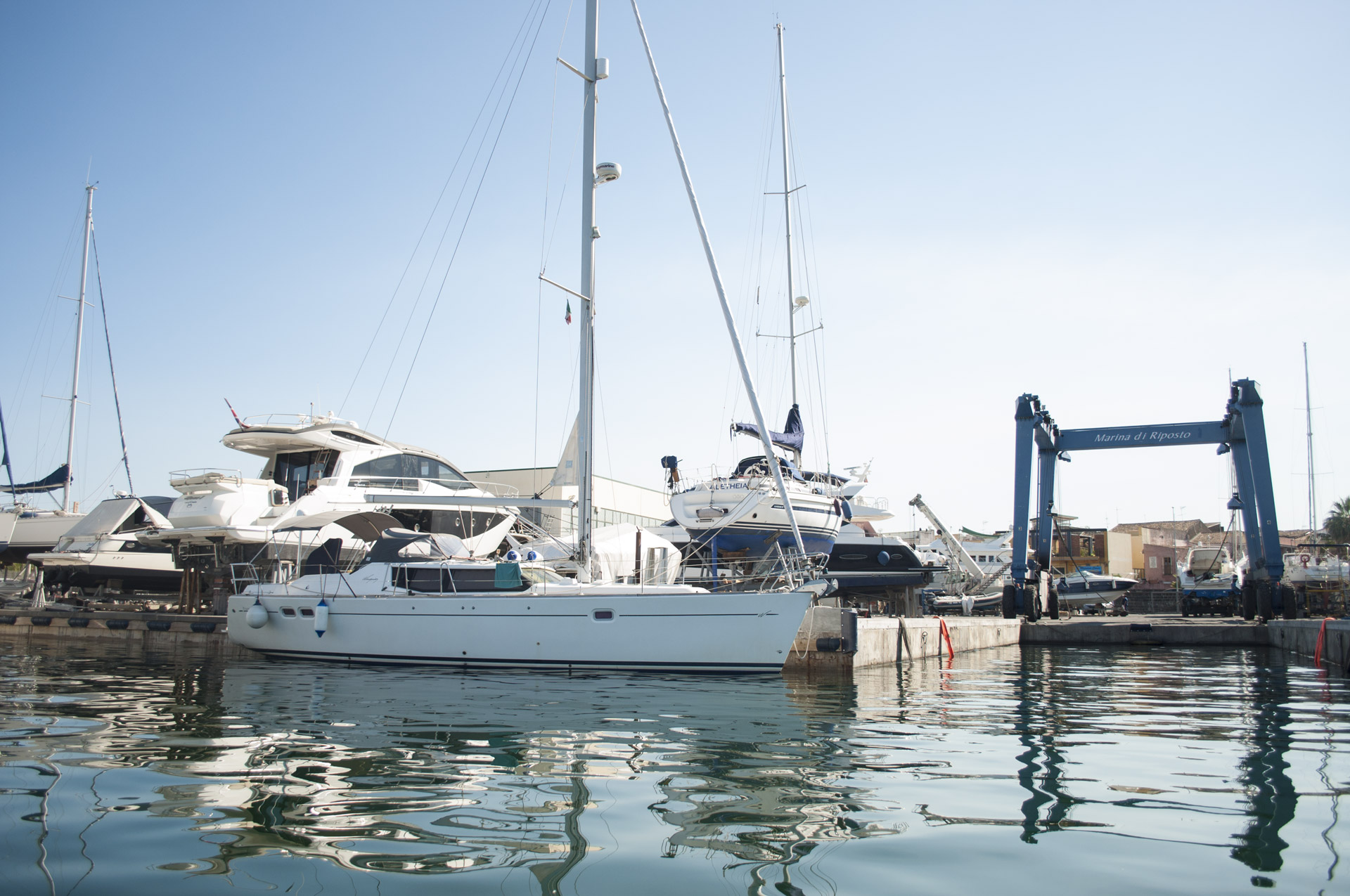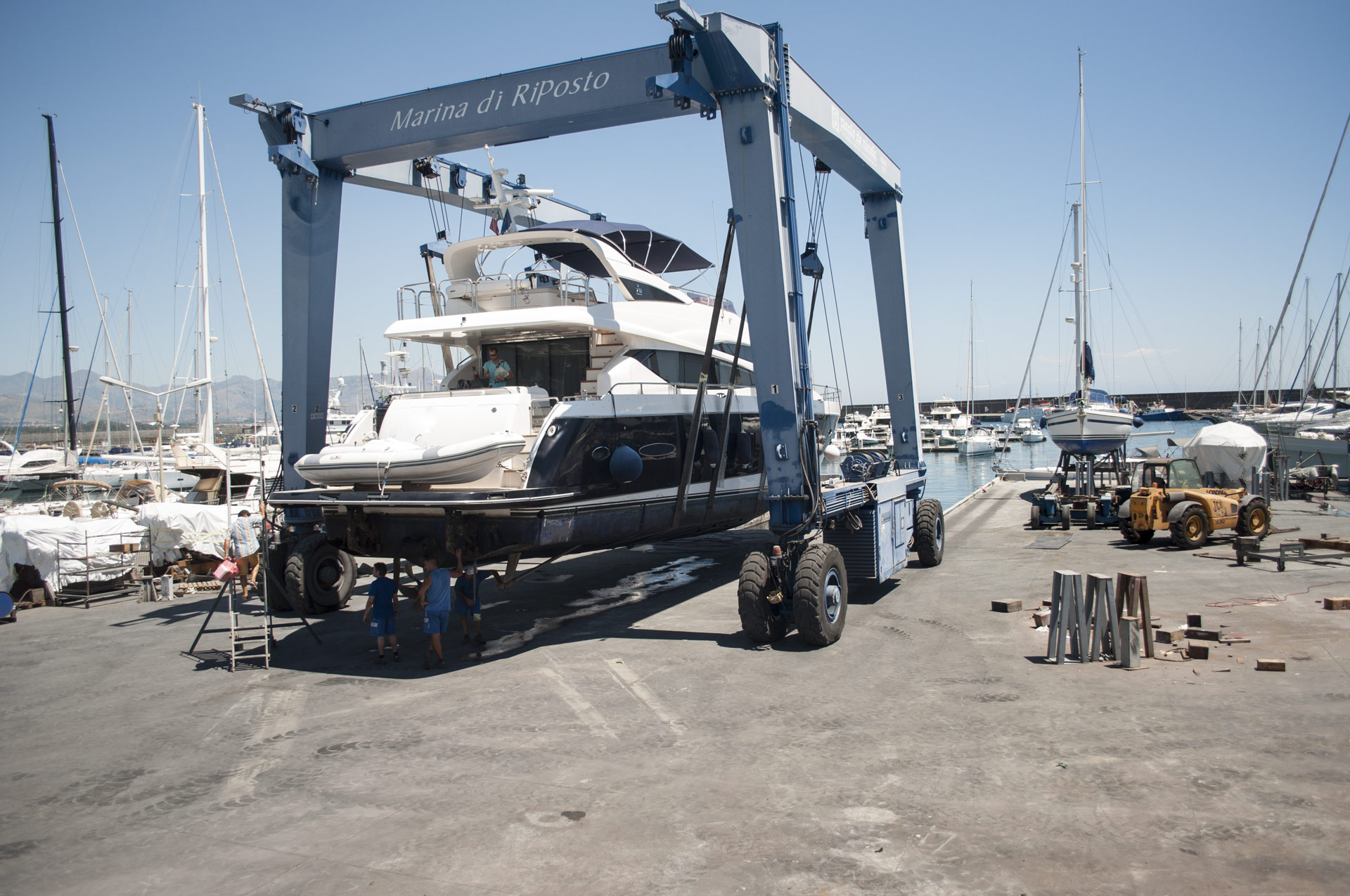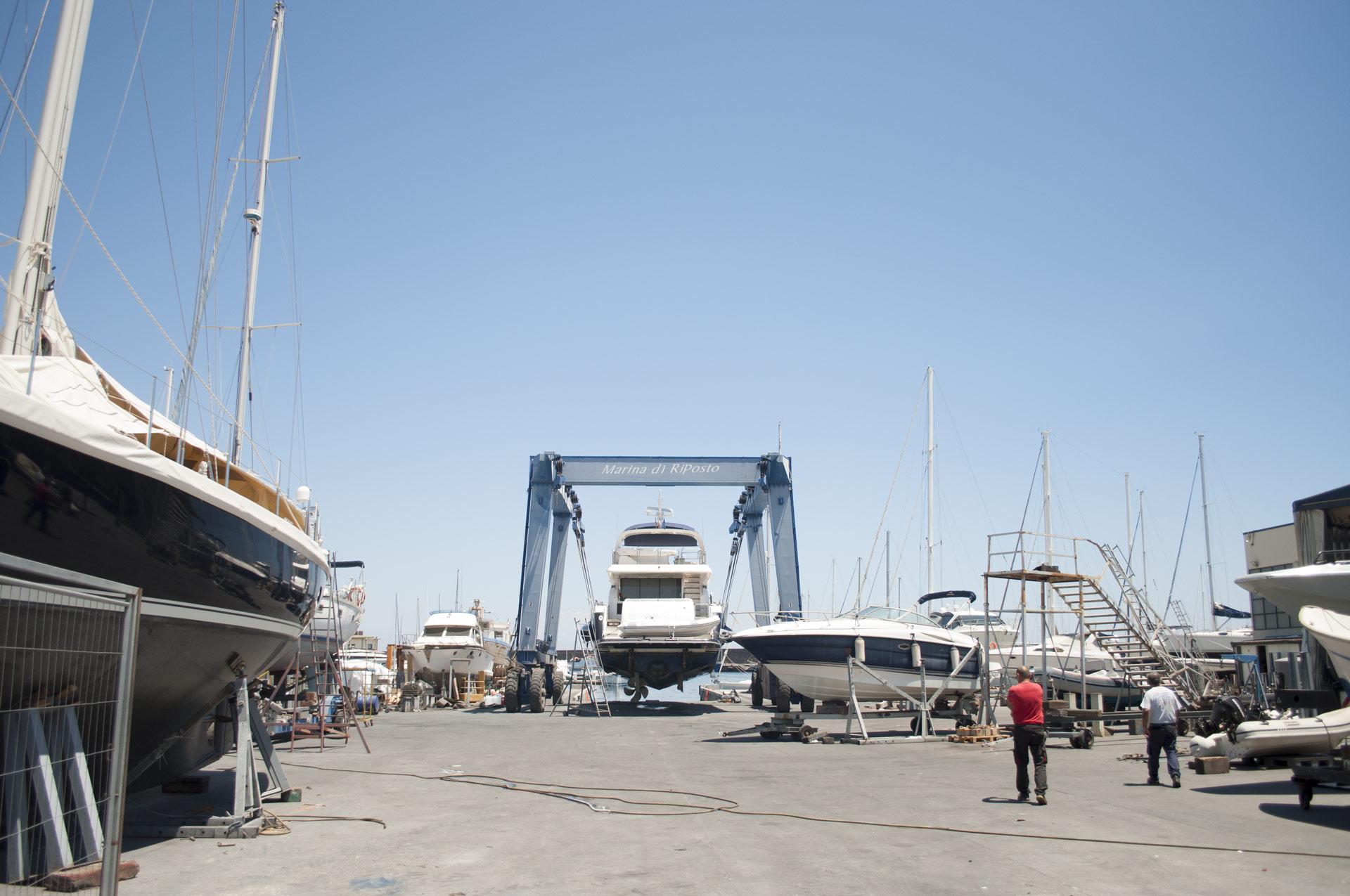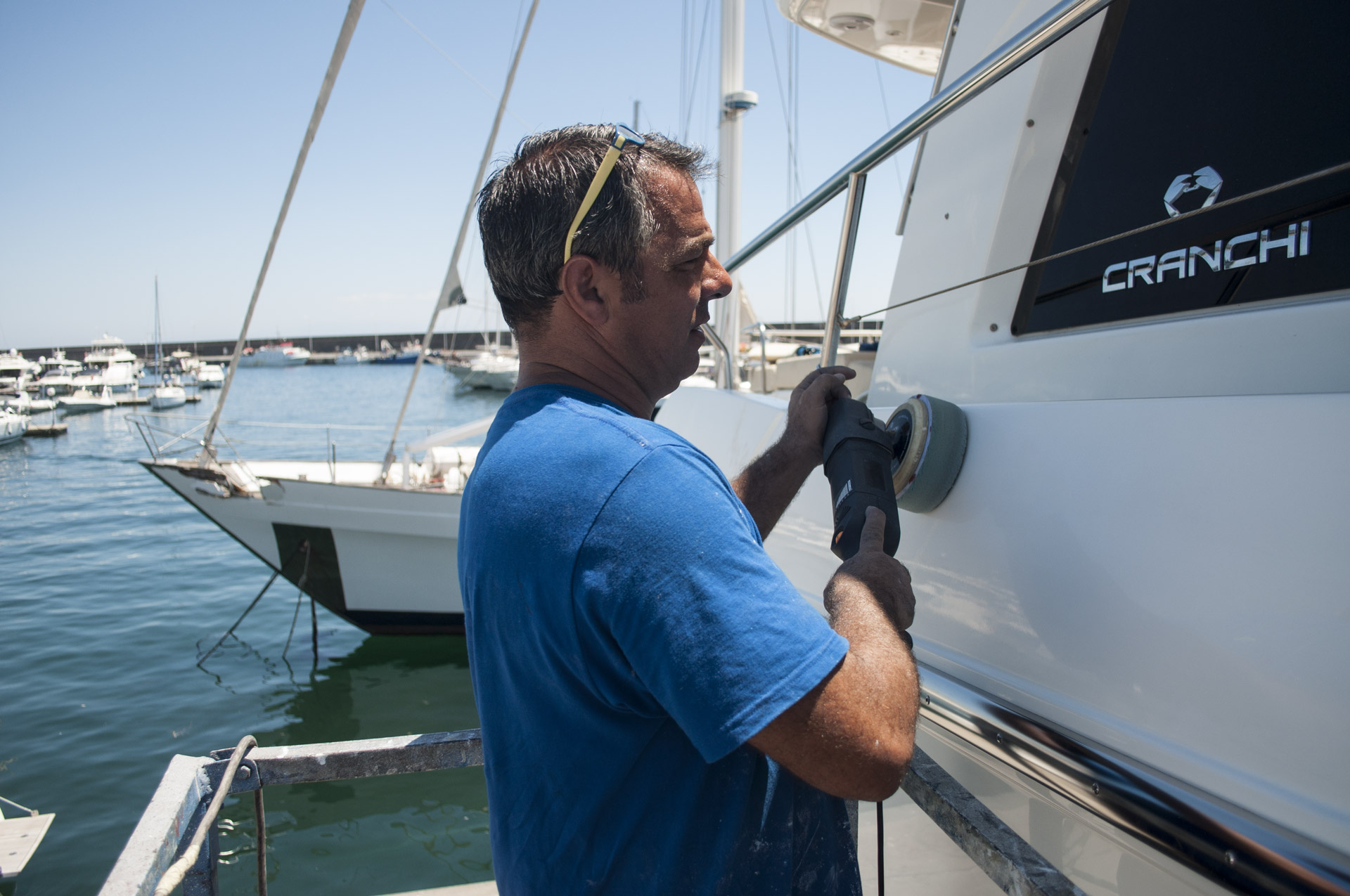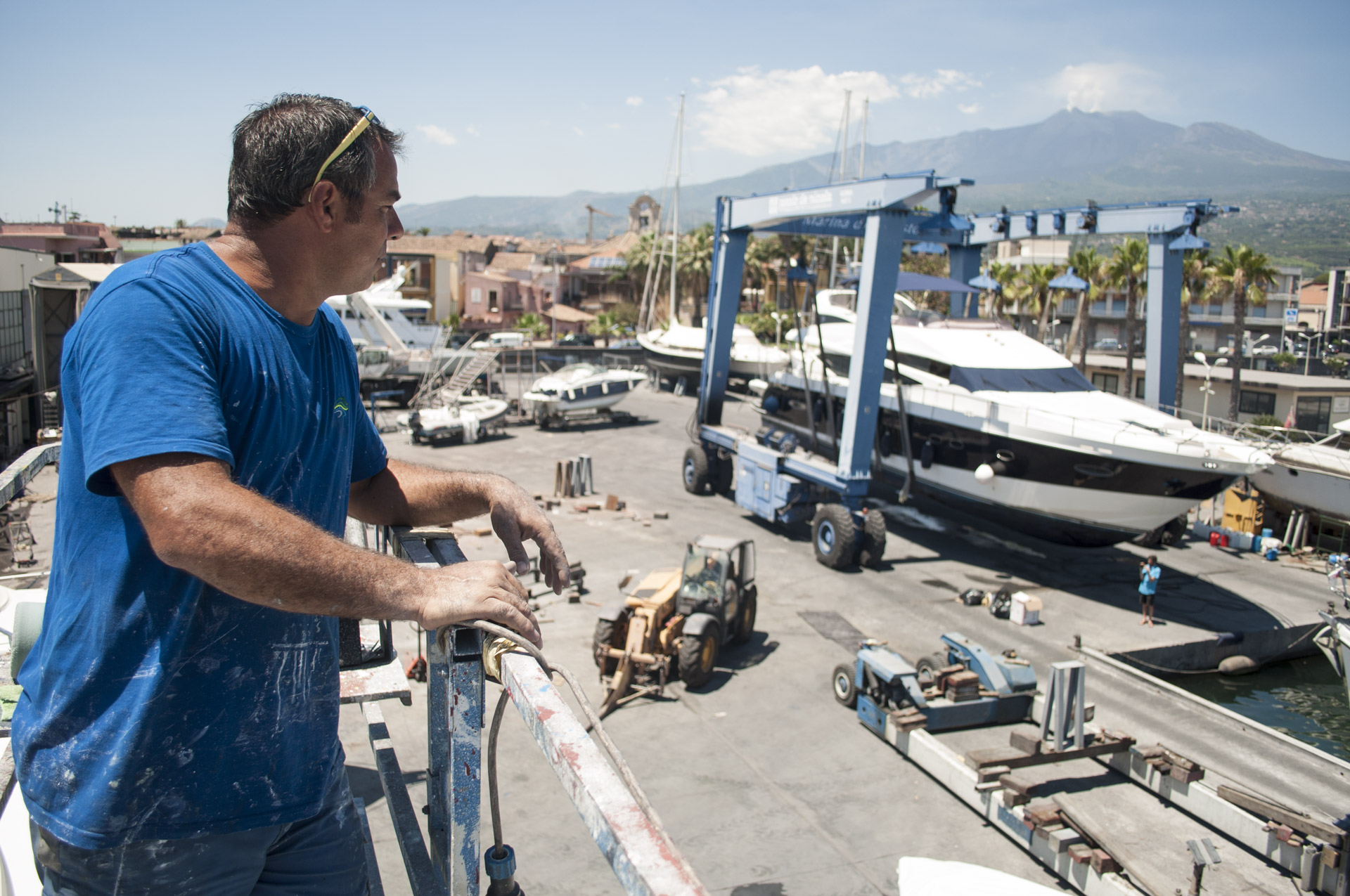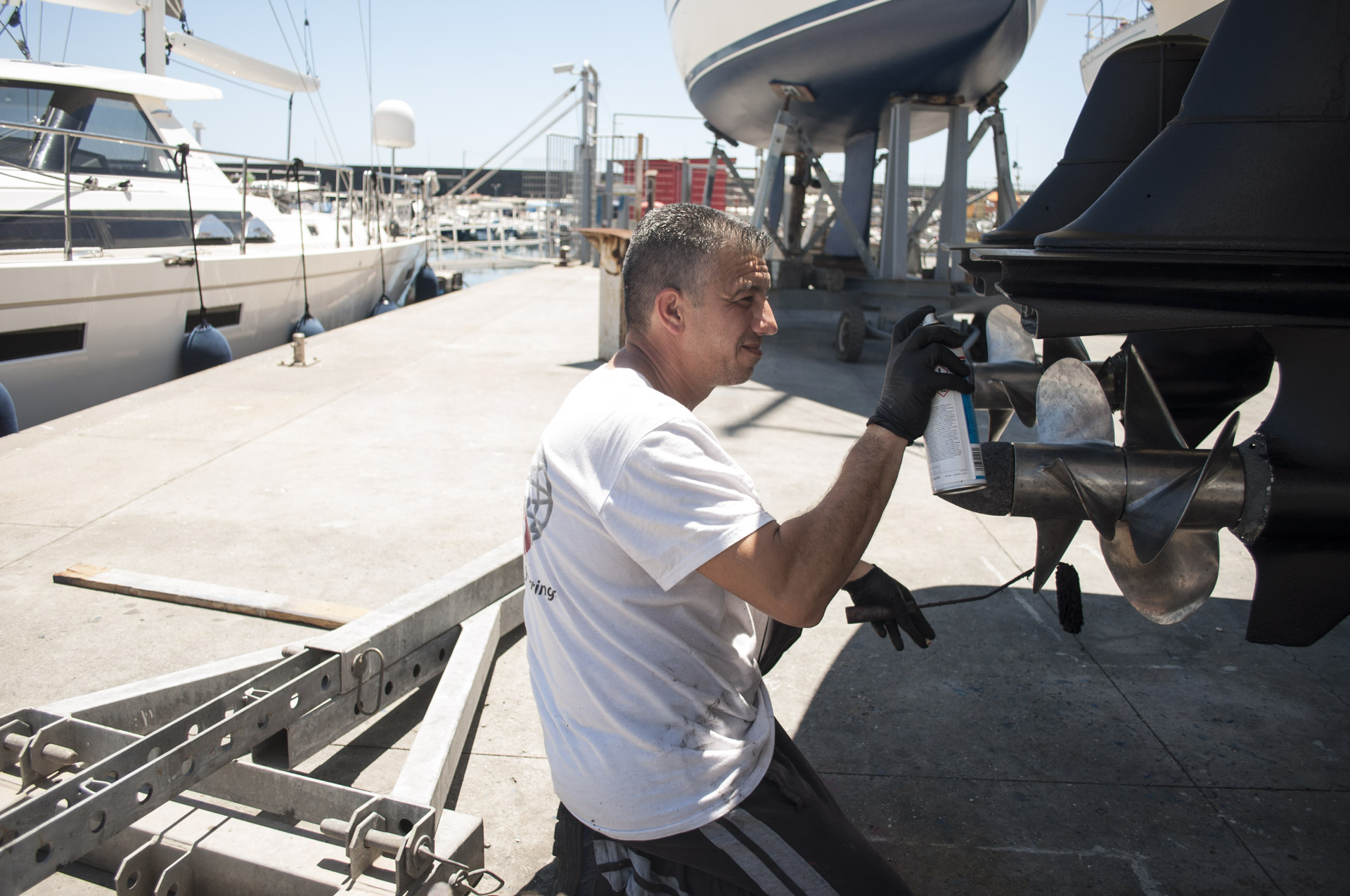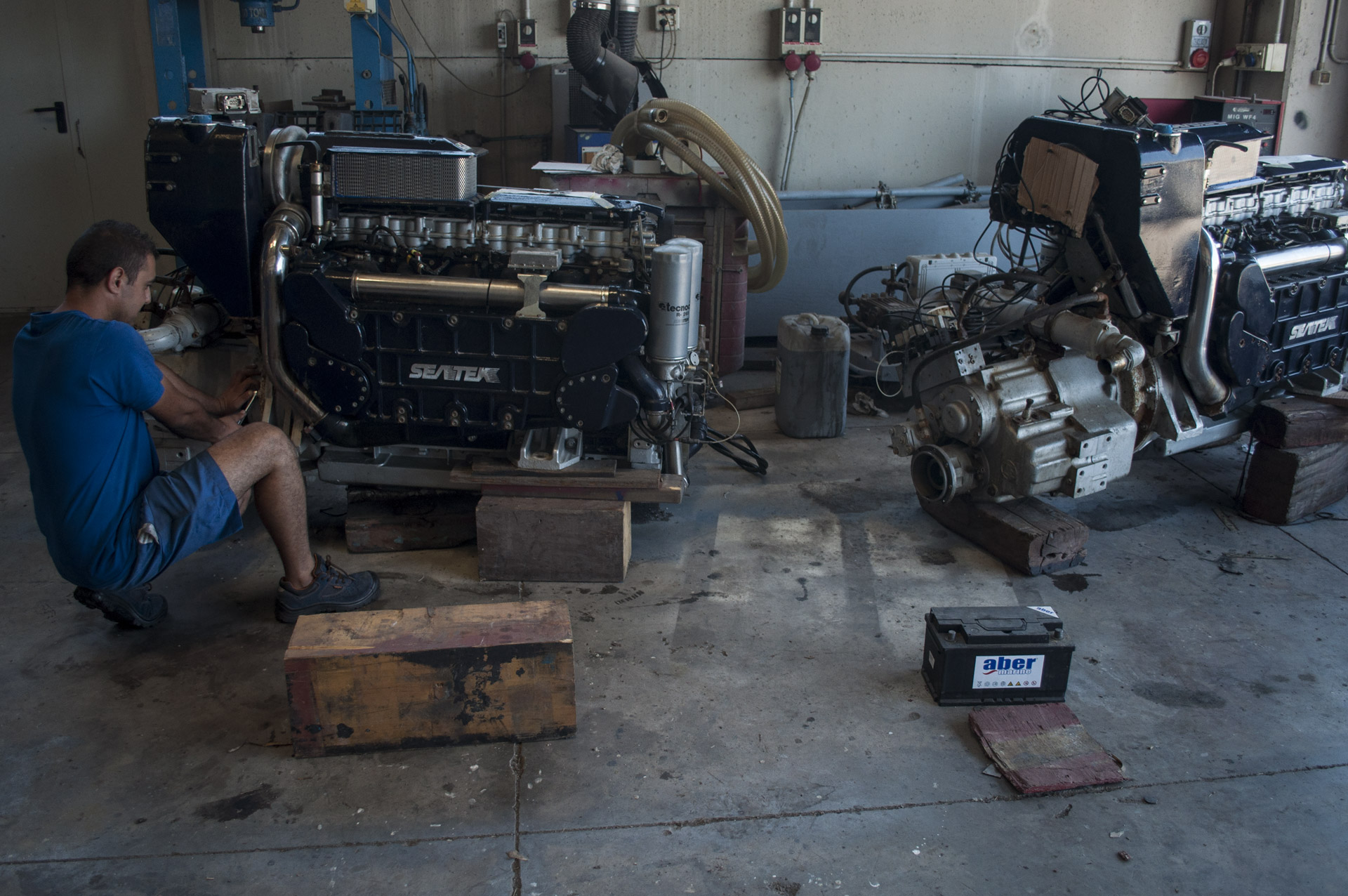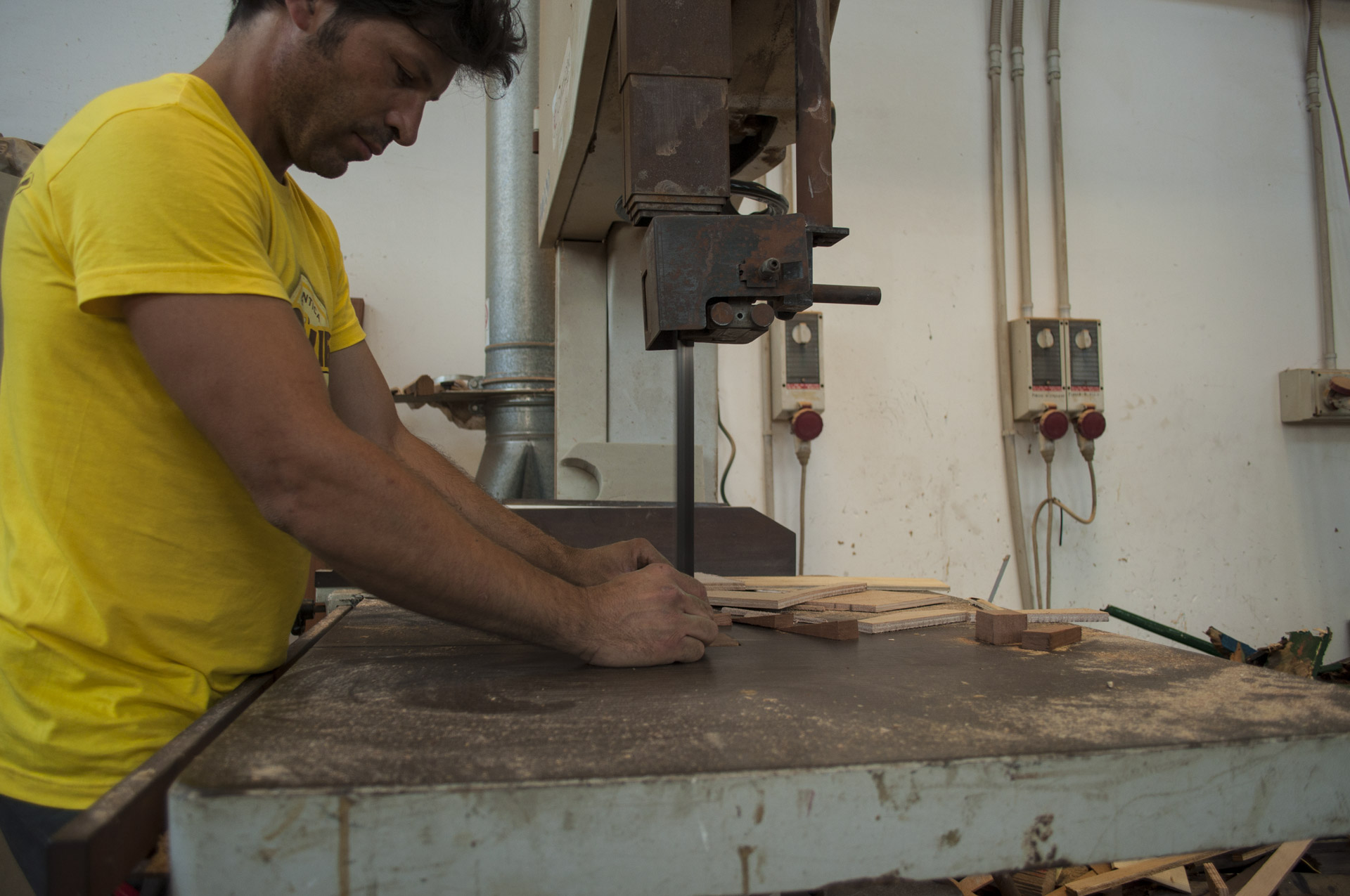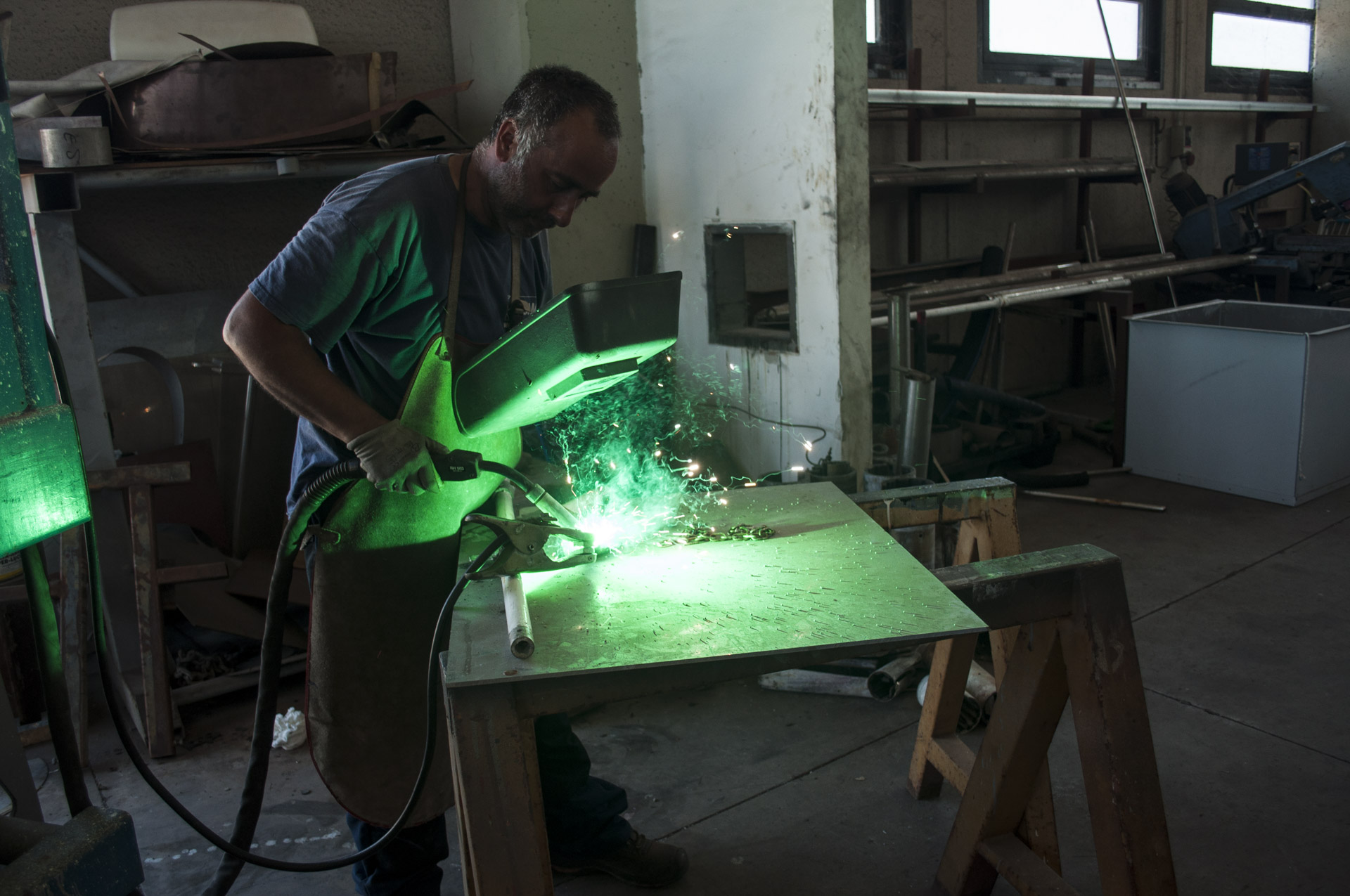 Special attention has been paid to the boatyard, with its 5,000 sqm. open area and its1,000 sqm. hangar. Assistance for a request of any kind is permanently available. Hauling and launching operations are carried out with a 160 ton travel lift, its 20 ton trolley distance operated, and with a 3 ton telescopic arm. The shipyard is equipped for all ordinary and extraordinary maintenance work, from fibreglass, including anti-osmosis treatment cycles, to carpentry, through its highly-equipped woodworking shop. The mechanical workshop has turning equipment, cutters and everything else needed for interventions on both inboard and outboard engines. The whole complex is run by highly trained and competent specialists.
Our assistance services
Travel lift, auto-crane and trolley
The Marina di Riposto shipyard is equipped with a 160 ton Travel Lift, which allows work to be carried out on boats of up to 35m in length and 9m in width. Purposely built by Paolo De Nicola SpA Co., it has a hydraulic levelling system, thereby avoiding any distortion to he vessels during lifting.
The shipyard is also supplied whip 40 ton semi-movable Bending autocrane with a 5x3m equaliser, which makes the lifting of small boats under 10m extremely simple. Together with the lifting equipment there is a telescopic JCB moving arm, and a 20 ton motorised trolley.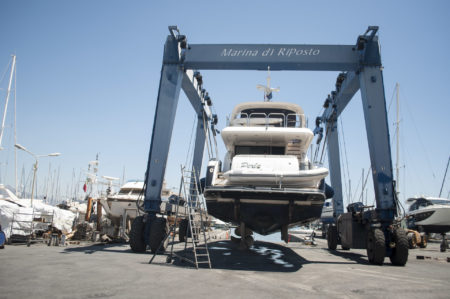 ---
Keel graving
Keeling work is carried out by specialised personnel, through the use of cutting-edge equipment, such as a hydrocleaner, sodium bicarbonate peeling ( for the removal of old anti-vegetation products without harming the gel coat), airless sprayers for high quality paintwork and finishings ( giving a perfectly smooth keel), and with partners such as Boero, International and Veneziani, all leaders in the fields of anti vegetation and anti-osmosis cycles, in which the shipyard rightly claims to be specialised.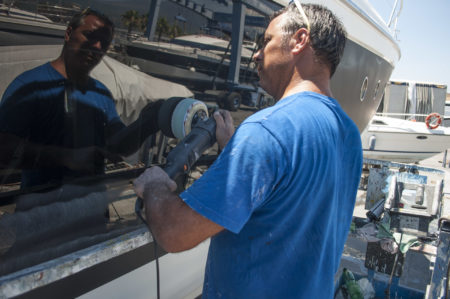 ---
VTR fibreglass and anti-osmosis
The marina di Riposto shipyard would not be complete without a section for fibreglass work, and for upper work painting. This workshop is equipped with a cutting table with an extending stretcher, and provides specialist know-how in the realisation of stern platforms (beachers) with insertions in teak.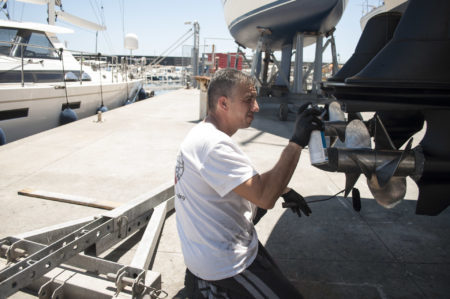 ---
CARPENTRY SHOP
The Carpentry Shop at the Marina di Riposto is equipped with state-of-the-art tools, such as all types of planers, toupie, fixed and circular saws, and a bobbin polisher.
The shop can carry out all types of internal and external furnishings, decks in teak, and in other materials.
Among our woodworkers' various talents, is a notable specialisation in caulking and the rebuilding of wooden boats.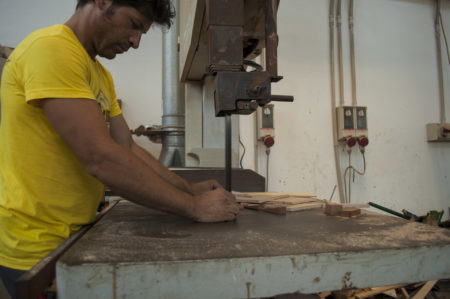 ---
Metalmechanics
The metalmechanic sector is equipped with column drills, pipe benders, drill cutters, wire and continuous wire welders for working all types of materials (stainless steel, aluminium), a 50 ton press, with a lathe for working on axes of up to 6m in length and 105mm d. completing the tool list.
The electromechanic section has both hot wash tubs (for engine cleaning) and testing counters for engines, starter motors and alternators.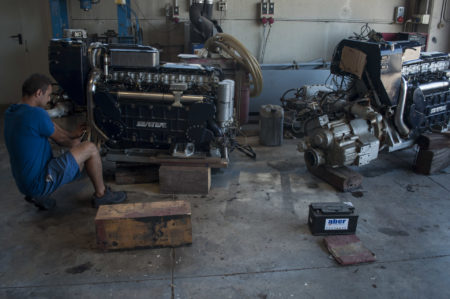 ---
Warehouse and spare parts
Our spare parts shop is suppled with zinc anodes, axel bushes, sea sockets, as well as spares for

and

inboard engines. The shipyard workshop is authorised to use computer diagnostics.